The Ultimate Guide to Website Redesign: Checklist for Success
on May 04, 2023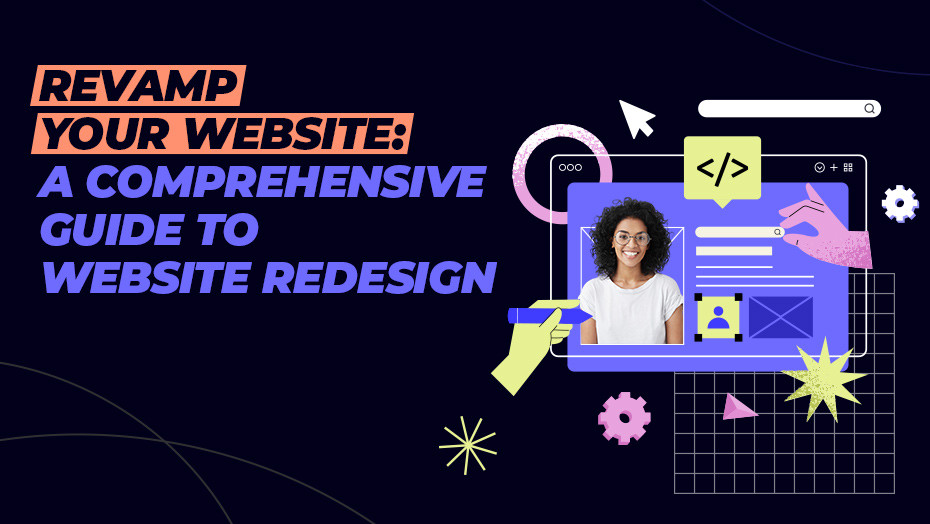 "I love this brand but look at their website - too complex and slow!"
You don't want users to say the same thing about your business, so timely redesigning your website becomes necessary.
Most website owners know the shortcomings of their website, but due to time constraints, they neglect the idea of revamping.
If, after procrastinating for too long, you have made up your mind to ditch your current website, here is a detailed website redesign checklist for you!
1. Analyze Your Website Redesign Goal
There should be a solid reason when you think of a website redesign.
Revamping your website just because your competitors are doing it should never be your ultimate reason.
The look and feel of a website are important, but more than that, you need to make sure your website works exceptionally well for the target audience.
Be clear about your goals and blend those goals with actionable results.
Before fixing the goal of your website redesign, ensure you talk to your agency, team, and designer to arrive at a passable result.
The objectives of revamping your website could be anything;
To decrease the bounce rate of the website
To increase the users' time on the website
To enhance the domain authority
To boost online sales & traffic
To increase the SEO rankings
To double the number of leads
To multiply the number of visitors
When deciding the objectives for your website design, you must consider the business and users' needs.
For instance, a business goal could be increasing leads, while a user needs a fast and reliable website.
2. Know What's Wrong About the Current Website
To fix the website's layout, you must first identify the areas that need modification.
Once you identify the changes, the next step is fixing them.
Your auditor will help find loopholes in the website; why is the website speed so low? or why is it difficult to navigate? Etc.
It is important to review the following aspects of the website;
Design and Layout
Structure and functionality
Performance and Load times
SEO, Security, & Hosting
Content Accuracy, Quality & Reliability
After the in-depth research, the auditor will assemble list of issues and provide suggestions to tackle the same.
3. Review & Revamp your Current Brand Style
The brand style or tone is one of the most crucial aspects of your brand.
A brand is created when people think and talk about it.
The company's website, newsletter, content, logo, everything matters as it represents the core value of the company and what they do.
A brand statement ensures what you want people to think about your brand and how effectively you can communicate it.
There are a set of brand guidelines that need to be followed by the employees.
When you think of transforming the brand's tone of voice, ensure to update the old guideline and come up with ideas and inspiration that resonate with your rebranding efforts.
There are two major aspects of brand style; messaging and visual appeal.
It is crucial to update the tonality of a brand on a timely basis.
Always stick to the fundamentals - what is your brand, and what are you selling?
And this must reflect in your copy and website strategy.
Visual elements are equally important, as people are drawn towards images before the picture.
The visual elements are;
Color Palette
Typography
Iconography
Logo
Images
When you review the visual elements, always consider how each of these factors perfectly aligns with your brand.
Your color palette should appeal to the target audience, and the typography needs to send a clear message. Furthermore, your logo should tell a story about your brand.
4. Know Your Competition
Knowing your competition helps you make the right decision.
Myriads of competitive analysis tools are available where you can simply know the strengths and weaknesses of your competitors. And you can use it to your advantage.
A simpler way to go about it is to check your competitors' websites and mark things you love and things that need improvement.
5. Optimize Your Website
People love devices, and they want easy access to their favorite websites.
Optimize your website to work for all screen sizes and devices.
These are some pointers to keep in mind while optimizing your website;
Optimize videos and images for mobile device
Test your website on all devices
Make sure your website is responsive and works best for different screen sizes
You can provide a flexible and positive user experience when optimizing your websites. This way, users will like being on your website, enabling them to buy products and services.
6. Build a Sitemap
Creating a sitemap is a primary step when you're revamping your website.
Always evaluate which pages will be preferable for Google indexing.
If a website's page is not showing up in the search results, it is not advisable to put them on the site map. For instance, pages with 404 errors.
You can make a list of pages that could be indexed and optimize them for further visibility.
Evaluate both primary and secondary pages. The menu page must have a higher status than blogs or other pages.
A sitemap will assist you in many ways;
Build a proper website structure
Ensure the exceptional user experience
Identify various website-related issues
Easily communicate design structure to the team
7. Backlink Research and Implementation
Backlinks play a pivotal role in redesigning your website.
It attracts tremendous traffic to your website when linked with high-authority websites.
Therefore, you can have better domain authority when you create more and more backlinks for your website.
When rebranding or revamping your website, never make changes to the popular pages to avoid 404 errors. The web crawlers and people interacting with your brand may only find you through these pages.
8. Focus on Keyword Research
Like website design, you also need to ensure the SEO is blue-chip.
With keyword research, you can optimize your site by learning what your users are looking for.
Keywords are terms that consumers are searching for, so by using them, you can create content for your website.
This will help you rank better on search engines and enhance your brand identity.
There are keyword research tools available such as Ahrefs and Semrush, which will provide accurate insights into current trends.
You just need to enter a word, and the tool will provide you with a report with various information like difficulty, search volume, SERP features, and competitive density.
9. Test Your Website to See the Performance
A redesign is difficult if you are not familiar with the shortcomings of the current website structure.
User testing helps with problems pertaining to an existing design.
These are some of the most common testing methods;
Choosing a small group of people who represent your target audience
Running testing sessions for a better understanding
Asking for feedback from the users
Evaluating results and identifying further improvements
This data will help you analyze the needs of the target audience and through which you can make drastic changes to your website's design.
10. Choose the Right CMS Solution
Last but not the least, choosing an ideal hosting solution does all the heavy lifting for your website's revamping.
The content management system (CMS) is software that helps in designing, developing, and publishing your website for your audience.
There are several CMS software available in the market. You can use the one that fulfills your needs.
Now you have the website redesign checklist! What's Next?
We understand your website redesign task would be tedious, with strict deadlines and tons of suggestions.
By following our guide, you will have a clear picture of all steps needed to create a robust website.
This will further enhance the traffic on your website, lead generation, and improve brand recognition.
When starting a redesign project, understand the "WHY" behind it. If there's sound reasoning, it will be easy for you to communicate it with other teams.
Put the right amount of time and effort into this rebranding project, and you'll see the difference yourself.
Ensure you have answers to queries like what areas of the website you want to improve, content changes to be made, and how you will analyze the success of your website design.
Talk to your team, and develop practical suggestions and solutions to bring value to your redesign project.
Looking for experts to strengthen your website redesign efforts? Talent by Netclues has a pool of highly qualified and experienced professionals who can provide scalable and user-friendly solutions for your website.